Enjoy a World-Class Investor Experience
Ontra's legal operating system streamlines subscription and MFN processes, informs side letter negotiations with precedent, and helps you track general partners' compliance.
Benefits
Spend More Time Investing, Less Time Completing Tedious Legal Processes
Use a modern, intuitive platform to expedite onboarding and streamline ongoing tracking of reporting and regulatory compliance.
Focus on Investing
Automate legal processes to spend more time making investment decisions and analyzing portfolio performance.
Onboard Efficiently
Complete digital subscription documents in days, not weeks, with conditional logic and saved investor profiles.
Gain Visibility Into Portfolio Compliance
Track reporting, compliance, and operations across your investments.
Features
An Integrated Platform to Streamline Investing
Ontra offers a suite of solutions that help you invest, negotiate, and track compliance across your portfolio.
FundFormer
Reduce the time and effort you expend to subscribe to a fund.
Leverage your saved investor profiles and a DocuSign integration to subscribe in just a few clicks.
Collaborate with general partners and third parties directly in your documents to move to completion quickly.
Provide key information to meet managers' tax, KYC, and AML requirements and reuse documentation to comply quickly for future investments.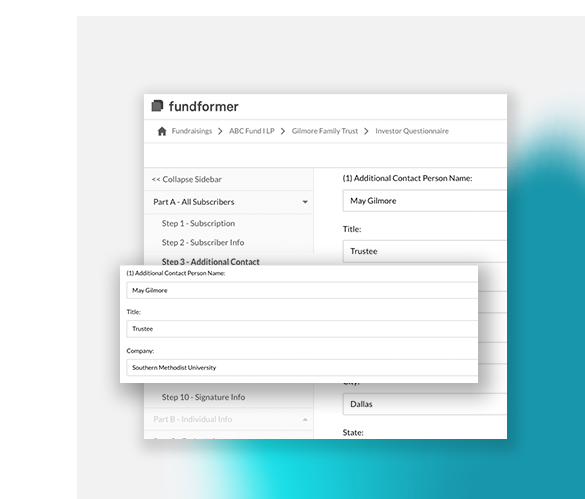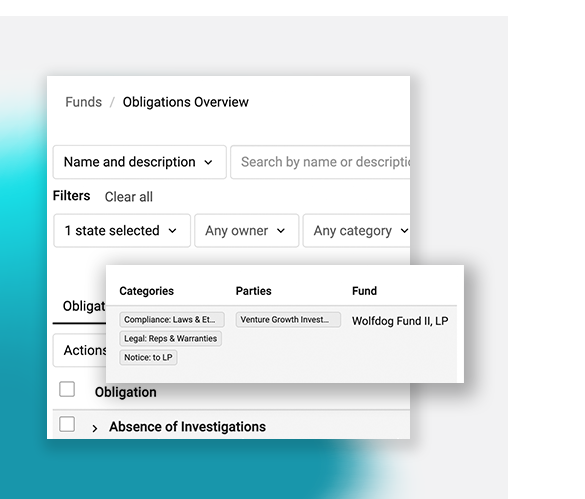 Insight
Get immediate, self-serve access to actionable data from your agreements with general partners.
Generate a centralized repository of agreements and visualize terms you've agreed to across all of your investments.
Redline an unlimited number of provisions to negotiate preferred terms and drive consistent language across contracts.
Monitor and report on compliance efforts across your portfolio using automated workflows.
Inform and improve side letter negotiations by understanding the terms of your precedent agreements.