Address Clients' Full Spectrum of Legal Requirements
Let Ontra's legal operating system automate routine legal processes while your firm focuses on the complex, high-value legal service it's uniquely positioned to deliver.
AM Law 100 Firms partner with Ontra
Benefits
Add a Technical Dimension to Your Role as Strategic Adviser
With Ontra, law firms and private markets companies can leverage technology to address increased documentation and the growing risk of regulatory scrutiny.
Increase Client Satisfaction and Retention
Address the full spectrum of client needs via a combination of Ontra solutions and your firm's specialized legal services.
Improve Morale
Keep your teams focused on complex, strategic projects while Ontra addresses routine legal work quickly and efficiently.
Accelerate Workflows
Accelerate routine contract negotiations, fundraising, and investor obligation management via Ontra's digital contract repository and AI-enabled automation tools.
Features
An Integrated Platform to Address Your Client's Routine Contract Workflows
Ontra offers a full suite of solutions that increases speed and efficiency across the entire lifecycle of a private fund.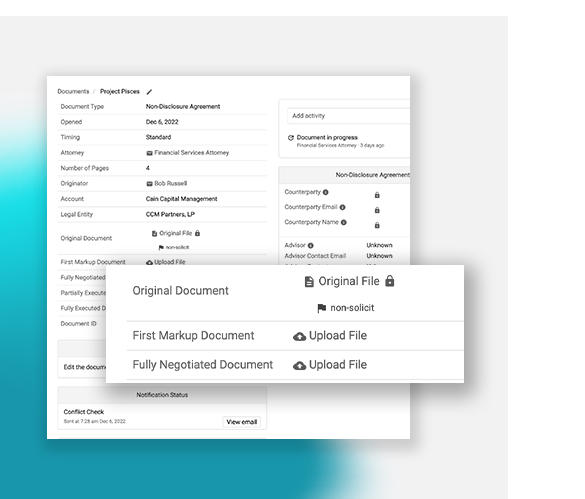 Contract Automation
Automate the negotiation and execution of routine NDAs, so your associates can spend more time on complex legal work.
Ensure your clients receive white-glove representation from lawyers who have specialized experience in routine negotiations.
Automatically notify counterparties when action is required and use status tracking to reduce negotiation times.
Streamline contract management by automating time-consuming manual tasks associated with conflict checking, status tracking, reporting, and billing.
Ontra Atlas
Modernize your approach to entity management and structure charts.
Consolidate clients' entity and structure information in an easy-to-navigate digital source, storing supporting documentation alongside relevant entities for easy access.
Automatically generate structure charts to visualize entity ownership and relationships. Easily customize and share with clients or third parties.
Manage your clients' personnel changes and ensure required corporate actions are completed with appropriate authorization. Make this information quickly accessible to internal teams, clients, and third parties.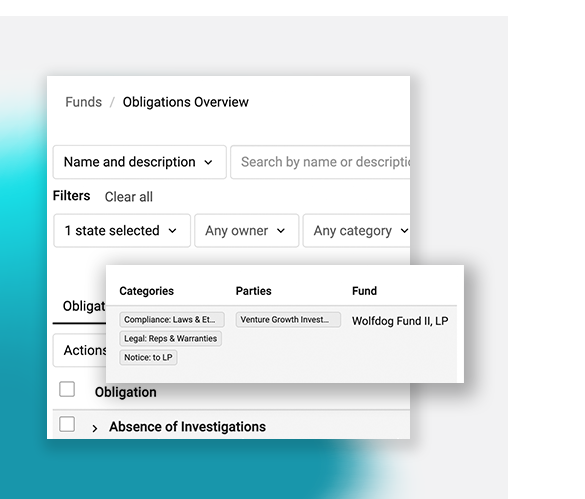 Contract Insight
Provide your clients with immediate, self-serve access to actionable data from all of their contracts.
Automatically categorize and tag obligations, and search actual contract language and summary descriptions across all of your clients' funds documentation.
Redline an unlimited number of provisions and get immediate, reliable answers in just a few keystrokes.
Automatically generate audit trails and evidence of compliance for your clients to rely on in the event of an examination.
Fund Formation (available with Insight)
Simplify and expedite the fundraising process, to lay the foundation for strong, long-term partnerships with limited partners.
Convert manual subscription documents to SmartForms with conditional logic and use auto form completion and eSignature to save investors time.
Provide clients with a consolidated view of their pipeline to understand progress toward their fundraising goal.
Collect all necessary investor data to meet AML/ KYC requirements.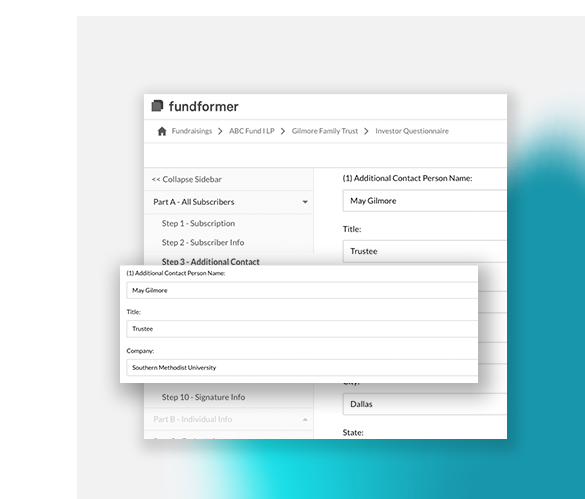 The Ultimate Guide to Contract Automation for Asset Managers