World-Class

Contract Negotiation and Document Processing for Private Markets
Free Yourself From Negotiating Routine Contracts
Recurring contracts bog down investment firms. Insourcing this work pulls staff away from other strategic priorities, resulting in deal delays, missed opportunities, and lower employee morale. Tapping outside counsel incurs hefty hourly rates and distracts law firms from other important work. Document Processing capitalizes on AI-powered software and a global network of experienced contract lawyers to negotiate and process NDAs, non-reliance letters, and other routine agreements quickly, efficiently, and at a low cost.
Move Deals Faster
Automate contract negotiation and document processing.

Free Internal Staff
Rely on Ontra's global network of independently practicing lawyers and free your team to focus on other strategic priorities
Negotiate Better Outcomes
Use historical precedent to negotiate from a position of strength.
Lower Legal Costs
Stop using expensive outside counsel. Redeploy internal resources on high-return initiatives and reduce churn.
The Complete Solution for Negotiating and Processing Routine Contracts
Document Processing pairs AI-powered software with a global network of experienced lawyers to process, negotiate, and manage routine contracts quickly and dependably.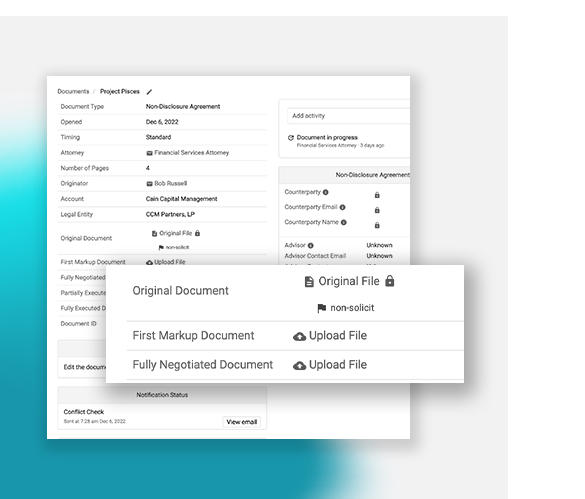 Process
Submit contracts for negotiation with one click.
Digitize and summarize analog contracts with AI-powered tools.
Negotiate
Tap into Ontra's global network of experienced contract lawyers to negotiate on your behalf.
Create playbooks to negotiate favorable contract terms quickly and consistently.
Track status throughout the contract negotiation process.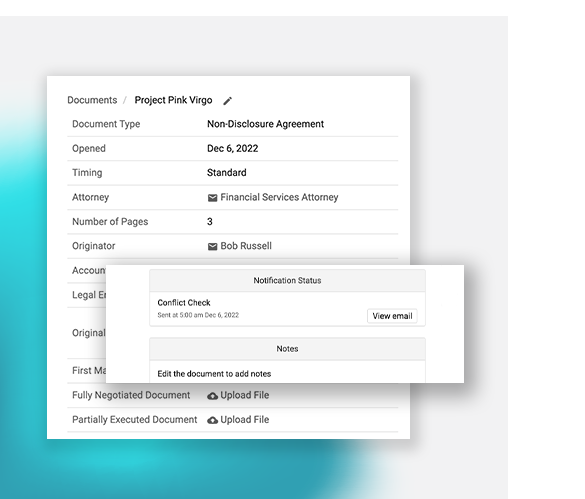 Manage
Retrieve and review contracts fast with ML-based search tools.
Keep relevant parties informed and engaged with automated email notifications.
Generate reports of contract key terms to understand historical precedent.
Sign
Get automated emails with links to contracts that are ready to sign.
Execute contracts from any device via DocuSign integration.
Automatically store executed agreements on the Ontra platform and send a copy to all signing parties.
Getting started is easy
Effortless onboarding
Our account managers will match you to a dedicated team of lawyers, develop a personalized playbook for your program, and customize our software features to best serve your team.
Skilled negotiation
Simply submit a contract for review and we'll do the rest. Lawyers from Ontra's Legal Network deploy the playbook in a consistent and commercial manner to bring contracts from origination to execution.
Dynamic reporting
Key terms across all of your contracts are aggregated in easy-to-reference reports that allow you to draw upon the full scope of knowledge from your firm's precedent agreements.
Example documents serviced:
Buy-Side and Sell-Side NDAs
Reliance and Non-Reliance Letters
TRUSTED BY LEADING FIRMS
See Document Processing
in action
Learn how Ontra can free your team to focus on other strategic priorities.