Manage the Fund Subscription Process
Learn how FundFormer (available with Insight) simplifies and expedites your subscription completion process.
The world's leading fund managers trust FundFormer
Use Case
Deliver the Institutional-Grade Fundraising Experience Your Investors Expect
Simplify Investor Onboarding
Automate subscription documents to seamlessly onboard and delight investors.
Understand Investor Status
Get real-time visibility into investor progress from opportunity to close.
Reduce Expenses
Process subscription documents with fewer resources and less external legal spend.
Expedite Your Close
Reduce the administrative burden by clearing investors to close in days, not weeks.
How We Do It
Leverage Innovative Technology to Transform the Way You Fundraise
FundFormer streamlines the fundraising process for managers, investors, and third parties by providing a seamless digital subscription experience. It's the fundraising platform that exceeds investor expectations.
Digital Documents
Convert PDF subscription documents to SmartForms with conditional logic to save investors time.
Require submission of critical information to guarantee data completeness and reduce time spent on follow-ups.
Allow third parties to comment and provide feedback directly in the form, centralizing communications.
Investor Profiles
Auto-populate forms using pre-existing profiles to create a seamless investor experience.
Ensure the consistency of investor information across all documents and funds.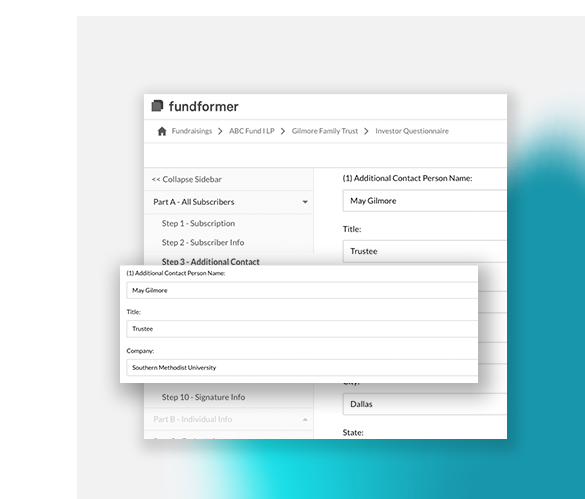 Fundraising Dashboard
Leverage a consolidated view of your pipeline to understand progress toward your fundraising goal.
Automatically alert fund administrators, legal counsel, and other third parties of required next steps.
Enable distributed fundraising teams to collaborate in real time.
eSignature
Sign documents from anywhere and any device via DocuSign integration.
Prompt signatories to take immediate action through automated reminders.
Request a demo to learn more.
Institutional-Grade Security & Compliance
Collect all required investor documents to comply with tax, anti-money laundering, and know your customer requirements.
Maintain data integrity across software systems by easily exporting critical investor documents and data.
Testimonials
Leading Firms Leverage FundFormer to Transform the Way They Fundraise
Firms using outdated fundraising methods lack real-time visibility into their pipeline and get bogged down by manual work, slowing their time to close and increasing the risk of error. FundFormer eliminates inefficiencies and empowers asset managers to simplify and expedite the fundraising process from opportunity to close.
"In addition to trimming at least two weeks off our investor onboarding time, there's a certain sense of security knowing that the FundFormer team is led by attorneys with deep legal backgrounds. This is extremely important to us because they're taking our PPMs and our subscription documents and reconfiguring them from a legal framework into a usable document that's now online and clickable."
Bob Griffin
Principal & Director of Business Development, WhiteTower Capital Management